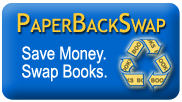 I'm pretty active over at paperbackswap.com. I've
blogged about it before
, but it bears repeating. Post a book, get a book. Free. That's all there is and there ain't no more. Burma Shave.
For your viewing pleasure, here's my list of books to be read. I will not go to the library until these are completed. I will not! No matter how much Larry Brown is calling me from amongst the shelves. Or how appealing the library scent is. Or how the librarians have probably forgotten what I look like. I WON'T GO!
Have you read any of these? Maybe someone has a suggestion of what should be first...
...or any that should be added. (I'm so weak!)
Adventures Of Huckleberry Finn by Mark Twain
Amistad by Alexs D. Pate
The Bachman Books by Stephen King
The Best of Mystery: 63 Short Stories Chosen by the Master of Suspense by Alfred Hitchcock
Black and Blue by Anna Quindlen
Catch 22 by Joseph Heller
The Crucible by Arthur Miller
The Curious Incident of the Dog in the Night-Time by Mark Haddon
The Duchess of Windsor by Michael Bloch
Ellen Foster by Kaye Gibbons
Eragon by Christopher Paolini
Every Breath You Take by Judith McNaught
A Faint Cold Fear by Robert Daley
Fall on Your Knees by Ann-Marie MacDonald
From Generation to Generation: Devotional Thoughts Drawn from the Past by Peter Kennedy
Gap Creek by Robert Morgan
A Girl Named Zippy: Growing Up Small in Mooreland Indiana by Haven Kimmel
Girl with a Pearl Earring by Tracy Chevalier
The Green Ripper by John D. MacdonaldIcy Sparks by Gwyn Hyman Rubio
The Jungle Book by Rudyard Kipling
Just Desserts: Martha Stewart the Unauthorized Biography by Jerry Oppenheimer
Lady by Thomas Tryon
Lasher by Anne Rice
Lies My Teacher Told Me: Everything Your American History Textbook Got Wrong by James W. Loewen
The Lovely Bones by Alice SeboldMagical Thinking by Augusten BurroughsA Map of the World by Jane HamiltonMe: Stories of My Life by Katharine Hepburn
Memoirs of an Unfit Mother by Anne Robinson
Moby Dick or the White Whale by Herman Melville
Off Keck Road by Mona Simpson
The Pearl by John Steinbeck
The Pilot's Wife by Anita Shreve
The Queen's Fool by Philippa Gregory
The Rainmaker by John Grisham
Real Women Don't Pump Gas by Joyce Jillson
River Cross My Heart by Breena Clarke
Saved by the Light by Paul Perry, Raymond A. Moody and Dannion Brinkley
Schindler's List by Thomas Keneally
Shadow of Cain by Vincent Bugliosi
Sharp Objects by Gillian Flynn
Something's Alive on the Titanic by Robert Serling
The Sound and the Fury and As I Lay Dying by William Faulkner
Soup and Me Robert Newton Peck
Taltos by Anne Rice
Tell No One by Harlan Coben
The Terminal Man by Michael Crichton
'Tis: A Memoir by Frank McCourt
The Tommyknockers by Stephen King
Vinegar Hill by A. Manette AnsayA Virtuous Woman by Kaye Gibbons
The Visitation by Frank Peretti
Where the Heart Is by Billie Letts
Who Put the Butter in Butterfly? And Other Fearless Investigations into Our Illogical Language by David Feldman
(Okay, now I realize the Larry Brown comment sounds a little strange. Larry Brown was an author from Oxford, Mississippi [just a hop, skip and jump from here]. His books just suck me in and I can't stop reading them til the end. I always want more. And it's always nice when somebody writes about a place you've been. I always feel a little bit famous. Ooh,
Silence of the Lambs
! The first lady was kidnapped from Winchester Street in Memphis. I've been there!!! That's almost as cool as
being tight with the Timberlakes
.)